Dr. Veena Chowdhary Foundation is an NGO firm that specializes in the patients health care and many more things that make the foundation grow up. Currently bulk of our patients are from all over india. We also introduces many base camps for helping the people need and aim for better vision.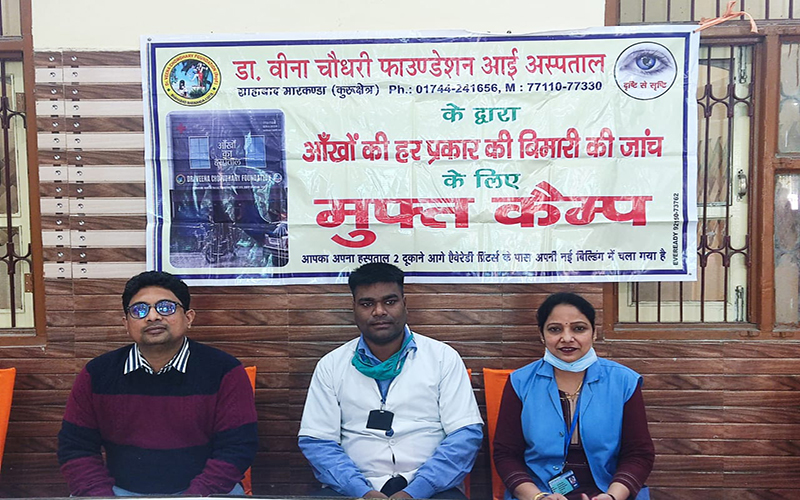 We love serving, we love people. We love coming up with innovative solutions to patients for serving better life with better vision
Better doctors, staff, facility and surrounding for a patient. Building a team that can change a life is a daunting task and that's why we are here to assist.
WE ARE LOOKING FOR
OPTOMETRIST (FULL TIME)
KILLA SIKKA ROAD Shahabad Markanda, Haryana, India 136135
Posted on : 2022-05-06
JOB DESCRIBTION
Our eye specialist practice has an immediate opening for a licensed Optometrist. We are ngo working towards curable blindness.The ideal candidate will have at least 3-5 years experience working as a licensed Optometrist and a background in treating eye-related disorders and conditions.
JOB RESPONSIBILTIES
Provide outpatient care for patients with eye-related disorders and conditions.
Conduct routine eye examinations, including visual field tests.
Conduct out reach camps on regular basis.
Take detailed medical histories for all patients, including current and past prescription medications.
Evaluate eye-related symptoms, such as discharge, redness and inflammation.
Prescribe corrective lenses when required for surgery
Educate patients on proper eye care
Advise patients about proper eye hygiene and care.
REQUIREMENTS
License for OPTOMETRY
3-5+ years experience working as an OPTOMETRIST.
Ability to diagnose and treat eye
Related disorders and conditions
Extremely organized and detail oriented
Exceptional verbal communication skills
Advanced time management skills.
Your Steps To Better Vision
Get treated and cared by the compassionate and experienced medical
Get In Touch With Us
Call us : +917711077330
Mail Us : dvcfound@gmail.com
Book Doctor Appointment
Get your appointment with the doctor to consult about your eye condition and treatment options available
Get Your Treatment
With proper consultation with the doctor, get your treatment as early as possible to restore your sight
LET'S START DOING YOUR BIT FOR THE WORLD.
Donate Now